Safe and Sound Derby 'could close' due to council cuts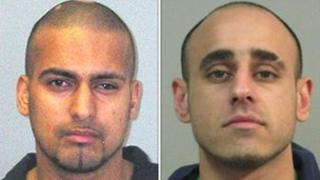 A charity that helped to break up a paedophile ring has said it could be forced to close because of funding cuts.
Safe and Sound alerted Derby authorities to the "evil" sex gang, whose ringleaders were jailed in 2011.
Derby City Council is "reviewing" the £84,000 it gives the charity each year - about a sixth of its £500,000 budget.
The council said it was facing "an unprecedented level of cuts" to its own budget, imposed by central government.
Derbyshire Police said the charity's work was "vital".
Chief Constable Mick Creedon said: "Without their support I have no doubt that several offenders would have continued to exploit and abuse young girls in the city of Derby.
"I see such importance in their work that I have made them my chosen charity and I support them in whatever ways I can."
The charity, set up in 2002, is based in Derby but works with children and young people across the UK.
As well as working with existing victims of sex crime, Safe and Sound Derby works to prevent young men and women from becoming victims.
'Drastic cuts'
Nicola Dalby, chief executive of Safe and Sound Derby, said the loss of funding would "directly, instantly affect how we can support children and young people and what we do with them".
"Then the other thing it will do is it will undermine our position in terms of attracting funding and investment into the city," she added.
Derby City Council's consultation on a wide range of budget cuts ends on 16 December.
A spokesperson said: "We would not be considering these cuts were it not for the drastic cuts in government grants.
"We value the tremendous work done by Safe and Sound and are currently meeting with them to decide our joint priorities moving forward.
"We will need to wait for the results of the consultation on the proposals and our discussions with Safe and Sound before we are able to decide the next steps."