Stanton Gate railway crash: 50th anniversary marked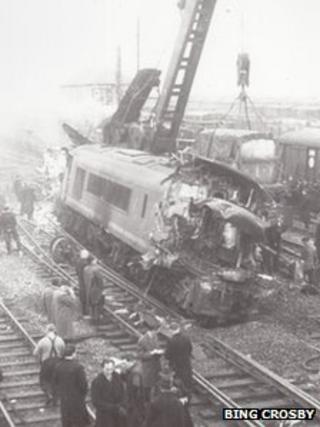 A former Derbyshire firefighter who attended a fatal rail crash scene 50 years ago has organised a special service to mark its anniversary.
A train driver and fireman, both from Leicester, were killed when their diesel locomotive collided head on with a freight train at Stanton Gate.
Peter Mee, from Ilkeston, was a fireman for the railway network when the crash happened on 6 December, 1963.
A service will be held at the rail bridge by the crash site later.
'Very upsetting'
Mr Mee, who was 21 at the time, said it was the first time he had dealt with a fatality.
"I'd never seen anything like that," he said.
"It really stuck with me for a long time. It was very upsetting."
At the time a Ministry of Transport report on the accident said the 22:40 goods train from Leeds to Leicester collided with another train at about 01:30.
Mr Mee, now 71, said the Leicester-bound train hit the only two carriages of the other locomotive, which were carrying cement blocks.
The report concluded that fireman Raymond Carter, 36, and driver Dennis Vincent , 37, may have "become drowsy" in the cab having had very little rest the previous day.
Firefighter Ron Burns also received a commendation in the report for leaping on to the derailed carriage and isolating the battery, potentially preventing an explosion.
Up to 20 people, including ex-train drivers, are expected to attend Thursday's service and lay a wreath at the site.