North Wingfield house fire: Community fundraises for funerals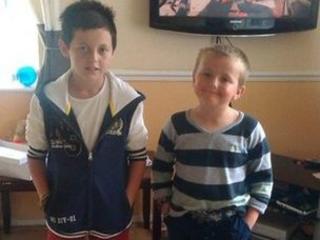 Money is being raised towards the funeral costs of four people killed by a house fire in north Derbyshire.
Claire James, 27, Josie Leighton, 32, and her two young sons Tyler, nine, and Jordan, 12, died from smoke inhalation at the house in North Wingfield.
The fire on 20 November had been caused by faulty electrical wiring.
Danette Bradder, one of the organisers of the fundraiser, said she had been amazed by the support everyone in the town had shown the two families.
"I knew the community in North Wingfield would pull together because everybody knew them," she said.
"It has broken so many people's hearts that something like this has happened in our community.
"So we just wanted to do something as a community to help both families, while giving them time to grieve."
The group have organised a five mile sponsored walk that will pass by the house followed by a fundraising event at the local miner's club.
They are hoping to raise up to £3,500 to give to the family for the funerals next week.
Teacher Clare Gaunt, who knew the boys, added: "There are a lot of people out there that absolutely loved that family.
"Jordan and Tyler were absolutely fantastic kids. It is such a tragedy.
"To lose three lives in one family, I don't know how the family are coping."