North Wingfield house fire: Four killed by faulty wiring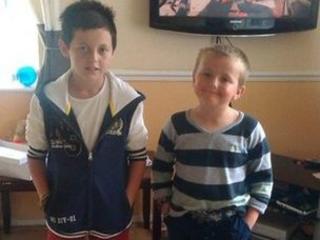 A house fire in Derbyshire that killed two women and two boys was caused by a fault in electrical wiring, the fire service has said.
Brothers Tyler Green, nine, and Jordan Green, 12, died after the fire in North Wingfield on 20 November.
Their mother, Josie Leighton, 32, and Claire James, 27, died at the scene.
The fire service said the blaze was "caused by a fault in electrical wiring between the ground and first floor of the North Wingfield property".
A seven-year-old girl who escaped from the fire was found in the garden suffering from smoke inhalation.
She has been discharged from hospital and is being cared for by relatives.
A post-mortem examination in Chesterfield found all four victims died from smoke inhalation.
Area manager Kam Basi of Derbyshire Fire and Rescue Service said the fire started between floors and spread down to the living room and up to the first floor.
"It was a 'slow burn' that gave off a lot of smoke," he added.
An earlier statement from the fire service said the fire had started "behind a television in the living room".
Mr Basi said embers from the fire in the floor joists had probably fallen into the floor near the television.
He said the house had working smoke alarms installed and added that all houses should have alarms fitted on every level.
All families should have "a pre-planned and practised escape route for the event of a fire", he said.