North Wingfield house fire: Four remembered in church service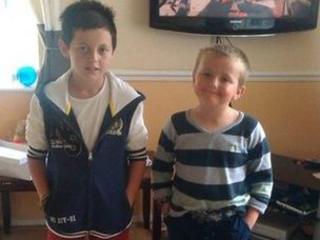 A church servicehas been held in memory of two brothers, their mother and another woman who died in a house fire in Derbyshire.
Tyler Green, nine, and Jordan Green, 12, died in hospital after the fire in North Wingfield, near Chesterfield, on Wednesday morning.
Their mother, Josie Leighton, 32, and Claire James, 27, died at the scene.
The four were remembered in the special service at their local church, Saint Lawrence's.
Reverend Colin Cooper, who lead the service, said it was a chance for people to grieve.
"I think people are finding their way in times like this," he said.
"They probably aren't sure what their feelings are so it's an opportunity to help people express their grief but also to show their solidarity."
A seven-year-old girl who escaped from the fire was found in the garden suffering from smoke inhalation.
She has been discharged from hospital and is being cared for by relatives.
At the opening of the inquest into the deaths on Friday, police said they believed the fire had started behind a television in the living room. The inquest was then adjourned.
A post-mortem examination found all four victims died from smoke inhalation.
A joint police and fire investigation into the exact cause of the fire is continuing. Police do not believe the blaze to be suspicious at this stage.