Al-Madinah free school: Department for Education and governors meet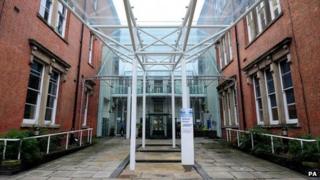 Governors from the troubled Al-Madinah free school in Derby have met with Department for Education officials.
It followed a letter from Education Minister Lord Nash outlining a number of issues to be addressed by the school.
Ofsted inspectors have described the school as "dysfunctional" and rated it inadequate in every category.
The meeting followed calls by Derby Muslim community leaders in October for all the governors at the school to go.
The chairwoman of governors, Shazia Parveen, has already announced she will be stepping down.
In a statement, the DfE said Education Minister Lord Nash wrote to the Al-Madinah Education Trust on 8 October "placing 17 requirements, which they must satisfy or risk their funding agreement being terminated".
"The last of those deadlines has now passed [and] we are actively considering the responses from the trust.
"It would be inappropriate to go into any further detail at this stage."
The school's trustees were told to provide a plan to show how fit they were to run the school and how it would improve, by 1 November.