Philpott fire deaths appeal planned to be shown on TV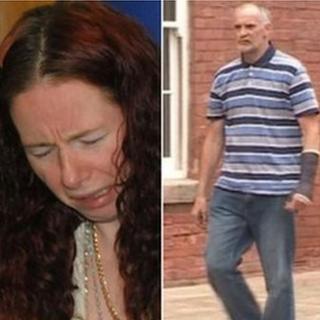 The appeal hearing for Mairead Philpott and Paul Mosley, convicted of killing six children in a Derby house fire, is expected to be filmed for television.
Filming at the Court of Appeal was allowed for the first time last month following a partial lifting of the long-standing ban on cameras in court.
The hearing will be at Nottingham Crown Court on 29 November.
Technical tests were carried out on Thursday, but the broadcasters still need the final approval.
Court filming is a pooled resource between the Press Association (PA), ITN, BBC and Sky News.
A PA spokesman said: "This will be the first time filming a Court of Appeal hearing will be done outside of London so there are a few technical hurdles to overcome.
"We are still waiting permission from the presiding judge, but are hopeful filming will go ahead."
'Defendants unseen'
Philpott and Mosley are both appealing against the length of their 17-year sentences.
A spokesman for the Judiciary of England and Wales said cameras would not be allowed to film Philpott or Mosley.
"Last month the cameras finally started showing some of the hearings in the Court of Appeal, but what they can show is very limited," said the spokesman.
"They can't show defendants or members of the public, but they can show the lawyers and the judges."
Philpott, the children's mother, and family friend Mosley were both convicted of manslaughter for the fire at Victory Road, Derby, in May 2012.
The pair's initial appeal was rejected and the hearing on 29 November will be a renewed application.
Earlier this year, Mairead's legal team said an appeal would be made on the grounds her role was "not as substantial as the trial judge had assessed".
The reason for the original appeal being dismissed has not been released.
Mick Philpott, the children's father, has not appealed against his life sentence for manslaughter.
Jade Philpott, 10, and brothers John, nine, Jack, seven, Jesse, six, and Jayden, five, died in the blaze, while Duwayne, who was 13, died three days later in hospital.