Buildings in Green Lane, Derby, to be restored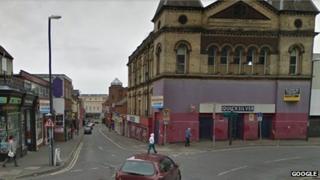 Buildings in a Derby shopping area which has "declined" are to be restored with a £700,000 grant.
The decline of the Green Lane area in the city centre has been partly blamed on the opening of the Westfield centre in 2007, which traders said took away business.
Derby City Council hopes the restoration work will create "a shopping destination to be proud of".
The grant was awarded by the Heritage Lottery Fund.
Councillor Asaf Afzal said: "This part of the city centre has declined in recent years and working with the local business community we are determined to help bring it back to life.
"We're confident this major redevelopment will bring an exciting and vibrant feel, and improve the attractiveness of the area as a whole, creating a shopping destination to be proud of."
'Raise the status'
Green Lane and St Peter's Street, which has recently become a conservation area, has buildings dating back from the 18th and 19th centuries.
The Hippodrome Restoration Trust is also trying to restore the Derby Hippodrome theatre in Green Lane, as it has stood empty for more than five years.
Peter Steer from Derby Civic Society said: "The creation of the conservation area and the money from the Heritage Lottery Fund for re-doing the shop fronts, and hopefully the restoration of the old Hippodrome, will raise the whole status of the area back to what it was a few years ago."