Derby chimney man Kevin Gough's death was 'misadventure'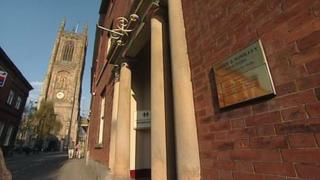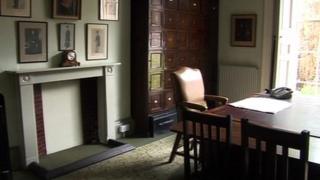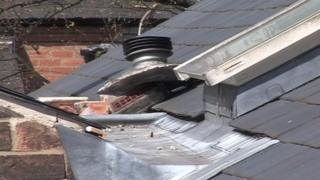 An inquest into the death of a homeless man whose body was found in a bricked up chimney has recorded a verdict of death by misadventure.
Kevin Gough, 43, was found wedged upside down in the chimney at a Derby solicitors' office on 1 May after staff noticed flies and a bad smell.
An inquest heard he had arrived in the city from Merseyside in March.
Coroner Dr Robert Hunter said he would have lost consciousness and died within minutes because of a lack of air.
The inquest was told that Mr Gough - whose last known address was in St Helens - had attempted to break into a bakery on The Strand, near to where he died, shortly after he came to the city.
During the attempted break-in, he cut himself when he fell through a glass roof, leaving traces of his blood at the scene, the inquest heard.
When Mr Gough's body was found in the chimney, he was linked to the attempted bakery break-in by his DNA , which was then used to identify him.
Mr Gough was last seen having breakfast at the Padley Centre for homeless people on 15 March and was not seen again until his body was found about six weeks later.
'Very, very quick'
The hearing was told he had made it most of the way down the chimney at Moody and Woolley Solicitors in St Mary's Gate, but near the bottom, the walls pressed tightly on his back and chest, restricting his breathing.
The inquest was also told that his clothing had restricted air flow in the flue.
Pest control officers were called out after staff complained of the smell and when workmen broke through the wall, they found his decomposing body.
Dr Hunter told Mr Gough's mother, who was at the inquest with other family members, that her son would have passed out quickly.
"There would have been a rapid loss of consciousness and death within a manner of minutes," he said.
"This would be why he did not call for help and the people working within the building had not heard him."
He added that Mr Gough's death "would have been very, very quick".
"He would not have lingered in the chimney for two or three days," he said.
"It's a little bit of comfort, not a great comfort, I'm sure you'd prefer to have him alive and well."