March honours Derbyshire guardsman Daniel Blinco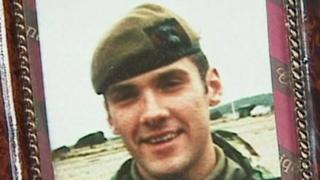 A British infantry regiment has marched through a Derbyshire village to honour a soldier killed in Northern Ireland almost 20 years ago.
Daniel Blinco, 22, died in a sniper attack during a patrol in South Armagh in December 1993.
The Grenadier Guards marched in Melbourne to mark his death on the day before Remembrance Sunday.
A bench at Melbourne Hall was also rededicated to him as part of the ceremony.
Joanna Swain, Guardsman Blinco's sister, said: "It is absolutely wonderful that Daniel has not been forgotten - it is beyond belief, to be honest."
She said the original bench would be taken back to her home and placed in her garden.
His mother Nina Blinco said: "We are overwhelmed - it is a wonderful thing that the people of Melbourne have turned out.
"Daniel would have loved every minute of it."