Charity gets Philpott house demolition £18,000 fee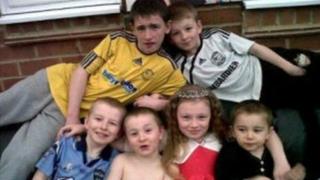 A charity has received £18,000 from the demolition company that knocked down a house in which six children died.
Derby Demolition Ltd waived its fee for razing 18 Victory Road where the children of Mick and Mairead Philpott lost their lives in a fire.
The couple were jailed in April, along with friend Paul Mosley, after being convicted of manslaughter.
The money will go to a Skegness holiday home for disadvantaged children living in Derbyshire.
Bill Tomlinson, chairman of the Derbyshire Children's Holiday Centre, said it was a "phenomenal fee".
He said: "It's our intention for the money to be used for the children in the Victory Road area."
The donation, he said, was a "magnificent gesture".
'Some good to come'
The cheque was presented at a community centre run by the Osmaston Community Association of Residents.
Mr Tomlinson said it would pay for almost five weeks of holiday for disadvantaged children.
Daniel Walsh, of Derby Demolition, said he wanted the money to go to the centre, in Skegness, Lincolnshire, because he had visited it as a child.
He said: "In these times all money is welcome but we thought it would do more good for somebody else and for some good to come of the situation."
Mr Walsh added that he and his staff had found the job difficult knowing what had happened at the property.
He said: "We all thought it was going to be a bit gory. We never went into the Philpotts' house and we sort of just pulled it down as it was, so nobody was actually physically handling anything."
Jade Philpott, 10, John, nine, Jack, eight, Jesse, six, and Jayden, five, died on the morning of the fire at Victory Road, on 11 May 2012.
Mairead Philpott's son from a previous relationship, 13-year-old Duwayne, died later in hospital.
Mick Philpott, 56, was jailed for life, with a minimum sentence of 15 years, for starting the fire while his children slept upstairs.