Heanor Gate school put into special measures by Ofsted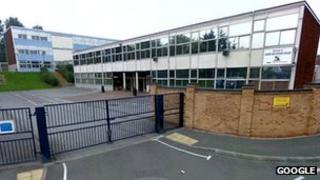 A Derbyshire school has been put into special measures just two years after being classed as "outstanding" by government inspectors.
Heanor Gate Science College was given the lowest rating of "inadequate" in three of the four categories assessed including quality of teaching.
Ofsted said it had declined since becoming an academy in November.
In a letter to parents, head teacher Rob Howard said he was "disappointed" by the judgement.
"I would like to assure you that staff will continue to work hard to provide your child with the best all-round education possible within a safe and caring environment," Mr Howard said.
The achievement of pupils, the quality of teaching and the school's leadership and management were all "inadequate" at the latest inspection.
In the report, the school watchdog said the school was "failing to give its pupils an acceptable standard of education and the persons responsible for leading, managing or governing the school are not demonstrating the capacity to secure the necessary improvement in the school.
"Achievement is inadequate because many students do not make the progress they should, particularly in English," Ofsted said.
'Academy system flaws'
"The most able students, those who are disabled and those who have special educational needs are underachieving."
The sixth form was also deemed "inadequate".
John Holmes, from the National Union of Teachers in Derbyshire, said there were flaws in the academy system.
"We were opposed to schools becoming academies because they are no longer under the aegis of the local authority.
"This school clearly won't have had the same help and support as schools that are in the normal run-of-the-mill local authority system."
A meeting for parents will be held next month to discuss the way forward for the school.