Al-Madinah free school: Mosque leaders call on trustees to go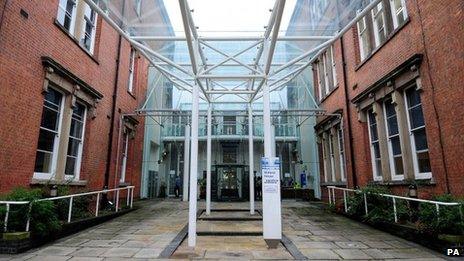 Muslim community leaders have called for all the governors at the under-fire Al-Madinah Muslim free school to go.
The demand came after chairwoman of governors, Shazia Parveen, announced she was stepping down.
Ofsted inspectors have described the school as "dysfunctional" and rated it inadequate in every category.
A statement from the Jamia mosque and Derby Islamic Centre said the trustees had not followed the ideals on which the school was founded.
Chairman of Derby Jamia mosque, Shahid Hamid, said: "We believe the position of the trustees has become untenable.
"The vision and principles on which they sold the school to parents, pupils, central government and the wider community have not been adhered to.
"We strongly urge the trust offer their resignation to the Department for Education."
An inspection of the school was brought forward after fears were raised about teaching standards.
Ms Parveen said she would step down at the "end of a period of transition" and acknowledged the weaknesses identified by Ofsted.
In a statement, she said: "The future of our children starts now."
The Ofsted report, published on 17 October, said the school required special measures and that the teachers were inexperienced and had not been provided with proper training.
Al-Madinah Education Trust said it accepted the report and would use it to move forward.
Ms Parveen said in her statement: "Over the last few years, I have sacrificed my own time, family and health for this noble cause - to help educate the children of our communities.
"The future of our children starts now. Much has been said about our school. We, the governing body, have tried our best.
"We acknowledge the weaknesses within our school and have taken the Department for Education (DfE) recommendations very seriously."
A DfE spokesman said: "We were already investigating this school before allegations became public.
"We discussed the problems with Ofsted and it launched an immediate inspection."
Labour's shadow schools minister Kevin Brennan said following Ms Parveen's resignation: "Another day, another episode in David Cameron's flailing flagship education programme.
"Al-Madinah is a symbol of all that is wrong with Cameron's free schools.
"Labour has long warned of the dangers: a lack of oversight, allowing unqualified teachers to teach on a permanent basis, and spending on free schools ahead of addressing the chronic shortages in primary school places."
Mr Cameron had said the Derby school should not be used "as a stick with which to beat the whole free school movement".
He added there were many free schools that had on average more outstanding and good ratings than established schools.
The Ofsted report followed a letter to the trust on 8 October by Education Minister Lord Nash which laid out 17 issues.
These included forcing female teachers to cover their hair and failing to carry out background checks on staff.
Speaking after the report was published, interim principal Dr Stuart Wilson said any school facing special measures had its fair share of issues and accepted the school has "a whole range of problems".
He said it had made a start in each of the areas of concern outlined in Lord Nash's letter that a number of these had already been addressed.
The school's trustees have to provide a plan to show how fit they are to run the school, and how it will improve, by 1 November.
Related Internet Links
The BBC is not responsible for the content of external sites.