Derby Hospitals Trust needs 'urgent action', watchdog warns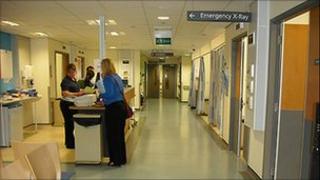 A Derbyshire NHS trust must take urgent action to fix its finances and waiting lists, a health watchdog says.
Derbyshire Hospitals Foundation NHS Trust has failed to balance its budget or meet emergency department targets, Monitor said.
Its spokesman Adam Cayley said: "Derby must ensure immediate and effective action is now taken."
The trust said it was "working with a number of key partners to develop a whole range of plans on performance".
Monitor can appoint a new management team at the hospital if the trust fails to meet its targets.
'Wider problems'
In April, Monitor asked the trust to meet a target of seeing 95% of patients within four hours of arriving at A&E but it only managed to see 93.4%.
It also asked the trust to balance its books, but it had a deficit of £1.9m at the end of July.
The watchdog, which regulates NHS foundation trusts, also had concerns about the number of superbug cases and the number of patients waiting more than 18 weeks between referral and treatment.
A Monitor spokesman said: "These failures may be indicative of wider problems with how the trust is run.
"Monitor will have to consider what changes will need to be made if the trust does not demonstrate rapid improvements."
Sue James, trust chief executive, said she was "disappointed" in the report. A long winter and increased demand in services had affected targets. she added.
She added: "We are delighted that more people want to come to Derbyshire but we hadn't expected that level of increased demand.
"We need to make sure we can deal with it safely, which isn't always in the timescale that Monitor would like.
"The quality and care we offer is excellent. We are very hopeful the improvements we are working to will be seen during the winter."
The trust runs Royal Derby Hospital and London Road Community Hospital.