Derbyshire woman reports spider in her house to 999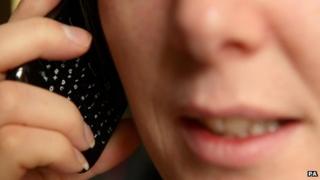 A woman rang 999 when she spotted a spider in her house while another called police to warn them she could not cancel her hair appointment.
Both calls, to Derbyshire police, have been released to the public to highlight "irresponsible" callers.
No action was taken but police said people should only call 999 in an emergency otherwise it should be 101.
A woman and a teenage girl were recently sentenced for making more than 400 hoax calls to Derby police.
In one call, made in August, a woman from Chaddesden rang 999 to say there was "a big spider" in the house and her mum had gone out.
When the operator asks how old she is, she replies: "Well I'm nearly 48 but I've had to shut the bathroom window."
She is asked if she knows it is illegal to call 999 unless it is a life or death emergency to which she replies "well I thought that was really".
In the second call, made last month, a woman from Duffield telephones police to tell them her phone is not working and she cannot contact her hairdresser.
When the operator explains that it is not an emergency she replies: "Well it is in that I can't make my hair appointment."
The operator, who remains patient throughout the almost two minute call, continues to explain that it is not a police matter.
But the woman persists, saying she cannot find a number for BT and she is "very frustrated" and that "I'm not taking this lightly but I'm desperate".
The call only ends when a number for BT is found when the operator tells the woman not to ring again unless it is a "life and death emergency" to which she replies "I wouldn't dream of doing it".
Derbyshire Police released the recordings in a bid to cut down on the number of fake calls, which it said was about a third of its 385 calls a day.
Insp Dave Kirby said: "I would urge people to take a moment to think which number is the most suitable one to ring before calling the police."