Rachael Slack inquest: Family sue police over deaths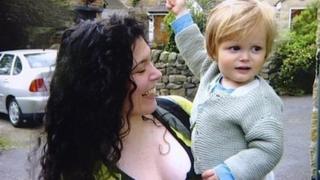 The family of a woman and her young son who were killed by her ex-partner are to seek damages from the police.
Rachael Slack, 38, and 23-month-old Auden were stabbed to death by Andrew Cairns at their Derbyshire home.
An inquest concluded that police failings led to the "unlawful killings" of Miss Slack and Auden in June 2010.
The family's lawyer said they were making a claim against police and were also considering action against mental health and social services.
During the five-week inquest, a jury heard how Cairns had a long history of mental health problems.
Evidence showed how Miss Slack had been in contact with Derbyshire Police about her concerns for the 44-year-old and his mental health after she told him about her new relationship and pregnancy.
Risk of homicide
In May 2010, days before he killed the pair, he was detained under the Mental Health Act but released after an assessment by health professionals.
The following day he was arrested for making threats to kill Miss Slack. No action was taken and he was bailed after being warned to stay away from his former partner.
The jury was also told that Miss Slack and Auden were deemed by police to be at "high risk" of homicide but officers admitted it was unclear whether Miss Slack had been warned.
After the inquest, Derbyshire Police said it had "developed and improved" its domestic violence policies and procedures since the deaths.
Lawyers for the Slack family said a civil claim had been submitted to police in 2011, but was suspended pending the outcome of the inquest.
A Derbyshire Police spokeswoman said the family had since lodged a claim for damages.
The family has also called for a national inquiry into what it called the rise in domestic violence incidents.
A serious case review looking at the actions of all the agencies involved in Miss Slack's case is due to be released in the coming weeks.