Dyeing toxic Derbyshire 'Blue Lagoon' deemed success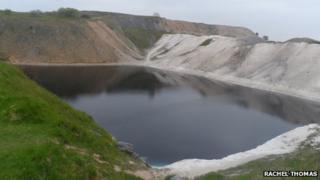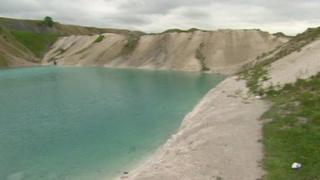 Dyeing the bright blue toxic water in a disused quarry black has helped keep people away, according to the local authority.
The quarry at Harpur Hill, near Buxton, Derbyshire, often attracted swimmers because of its appearance.
However the water is highly alkaline - with a pH level of 11.3 - and can cause skin complaints.
High Peak Borough Council says the number of visitors fell this year despite the warm summer weather.
Abandoned vehicles
Leader of the council Caitlin Bisknell said: "The decision to change the colour of the water to make it less visually appealing has been a success.
"The number of people visiting the area has decreased and those that did travel to the area didn't stay, which is encouraging especially as we have had a warm, sunny summer."
She added: "I would reiterate the reasons for the action we have taken which are that the water is completely unsuitable for bathing due to its high alkalinity content and the hazards that are in water such as abandoned plant from the quarry, vehicles and other rubbish."
The pool previously got its turquoise blue colour from the caustic chemicals in the quarry stone.
Last year signs were put up by the council warning people it could cause skin irritations and stomach problems in a bid to keep swimmers out.
The authority said it would continue to review the situation.