Derby warehouse fire: Second man arrested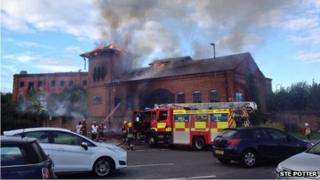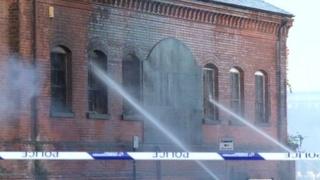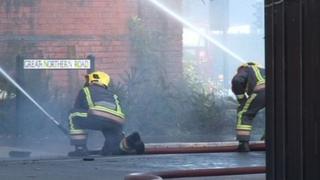 Police investigating the death of a man whose body was found after a fire in a derelict building in Derby have made a second arrest.
It was first thought that no-one was in the warehouse on Great Northern Road when the fire broke out on Tuesday.
Officers have been granted extra time to question a 39-year-old arrested on suspicion of arson. A 53-year-old man was arrested on Thursday.
Police have not yet released the identity of the dead man.
The warehouse was extensively damaged in the blaze on Tuesday afternoon.
A Derbyshire Police spokesman said: "During the search of the building the body of a white man aged approximately 30 years old was discovered.
"Police believe they know the identity of the man but his name cannot be released at this stage."
The scene of the fire is still cordoned off and the search of the premises is continuing.
Anyone with information about the fire is asked to contact Derbyshire Police.