Rachael Slack inquest: Psychologist 'sorry' after stab deaths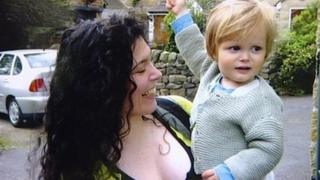 A clinical psychologist caring for a man who was found dead in Derbyshire alongside his former partner and son has apologised to the family during an inquest into their deaths.
Rachael Slack, 38, her 23-month-old son Auden and Andrew Cairns, 44, were found stabbed to death on 2 June 2010.
Dr Andrew Raynor told Mr Cairns' sister he was sorry for not returning calls after they visited him in March 2010.
But Diane Belshaw replied: "It won't do, it won't do."
The inquest heard that during 2009 and early 2010 Andrew Cairns' mental health had deteriorated following the break-up of his relationship with Ms Slack.
Mr Cairns had been living alone at a bungalow in Marehay, near Ripley, Derbyshire, and was supposed to be seeing Dr Raynor but had missed appointments.
'No powers'
Mrs Belshaw, his sister, went with Rachael Slack to the bungalow to see him, along with Dr Raynor.
Mr Cairns was living in squalid conditions and refused to admit any of them, the inquest heard.
Dr Raynor told Derby and South Derbyshire Coroner's Court: "We had no powers to enter the property or take things further."
The coroner said: "Mrs Belshaw said she left a number of phone messages for you the next day, but you did not respond."
Dr Raynor agreed that was unacceptable and turned in person, in court, and apologised to Mrs Belshaw for any distress he may have caused her.
The inquest also heard Mrs Belshaw could only be directly involved in her brother's care with his permission, and Mr Cairns had been against that.
The three bodies had been found at a cottage in Holbrook, Derbyshire, in June 2010.
Earlier in the inquest, Home Office pathologist Professor Guy Rutty said he believed Mr Cairns's wounds were self-inflicted.
Ms Slack was pregnant at the time of her death and in a new relationship.
The inquest continues.