Derbyshire communities 'horrified' at HS2 proposal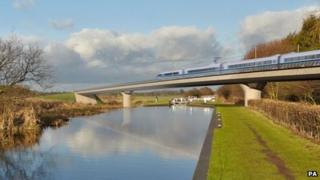 Officials in two Derbyshire towns have said they are "horrified" by a bid to bring high-speed rail to Derby.
In January, Derby City Council said it would pay tens of millions of pounds to bring an HS2 station to the city.
But a draft proposal drawn up by the company behind HS2 suggests any such route may pass close to several towns, including Ripley and Alfreton.
Residents said they were "alarmed" but the city council said the Derby project was "sustainable".
'Heart of green belt'
The government's favoured option, which is undergoing consultation, has the East Midlands section of the route stopping in Toton.
However, the city council believes there would be "greater economic value for the region" if the line came into Derby.
Council leader Paul Bayliss said: "The Derby option is more sustainable than Toton in generating thousands of jobs for the region."
He said they would be making "the case for Derby" during the consultation period.
An HS2 spokesperson said an alternative route they published to take the line into Derby, was one of a number of options they had presented to ministers.
He said "a refined route" would be published following the consultation period but could not rule out that this might involve bringing the line to Derby which, he said, was "the second best option".
However HS2 objector Dr Paul Thornton said: "This is not simply a minor correction, or a small branch line into the city centre.
"Rather it is an enormous change to a substantial section of the Birmingham to Leeds line over a distance of some 60km (40miles)."
Steve Freeborn, leader of Ripley Town Council, said: "I don't think many people are aware of these proposals but those who are aware are horrified.
"Derby City Council are doing what's right for Derby, but they would expect me to do what's right for Ripley and I have to disagree with them."
A statement issued on behalf of Alfreton Town Council said members were "alarmed" at the proposal.
"They are particularly concerned the line will pass immediately alongside residential properties, including an area of land which has just been given planning permission for 149 new homes.
"The proposed route also takes away much-needed public open space near the historic Alfreton Park."
However, other town councils said they were happy with the proposals.
Dave Fisher, from Belper Town Council, said he thought the route to Derby would be "more beneficial" to the area than the current proposal.
And Alan Calladine, the development officer of the Midland Railway for Butterley - a heritage line that passes close to the alternative route - said: "It might be quite interesting for visitors to see something ultra-modern so close to something from the days of steam."