Bus crashes into house in Sawley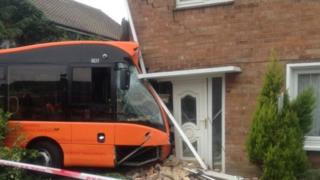 A house has been severely damaged by a bus which crashed into it after colliding with a car.
Gordon Plummer was having a cup of coffee in the lounge of his Derbyshire home at about 13:00 BST when he heard a noise "like a loud explosion".
He said he was horrified when he opened his lounge door and found the passage and stairs blocked by rubble.
Police are investigating the crash, which happened in Beresford Road, Sawley, near Long Eaton.
Mr Plummer said: "I was in the blitz in Sheffield, so I was quite used to all these explosions."
He had just finished eating lunch when it happened.
"I leapt up, opened the lounge door and, much to my horror, the whole of the passageway and the stairs was blocked by rubble," he said.
"I thought, 'I had better get out of here'. I made my way into the next door's garden and I noticed I had a bus at the side of me."
Police said the Trent Barton bus had collided with a Ford Ka, then left the road.
The bus and car drivers both received minor injuries but did not need to go to hospital.
There was only one passenger on the bus, who was not injured.
Police said the damage to the house would have to be assessed by a structural engineer before the bus could be removed.