Derby Silk Mill museum to recruit 'citizen curators'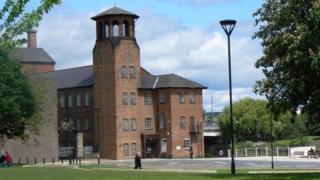 A Derby museum is recruiting "citizen curators" to help decide what exhibitions it should house.
The Silk Mill is currently undergoing a £700,000 renovation and will see the ground floor transformed into a community museum space.
Now bosses behind the Remake the Museum project want to bring in volunteers to design displays and make furniture.
Development manager Hannah Fox said such a scheme had not been attempted in the UK before.
She said the opportunity would give people new skills and "direct input into the future of one of the city's most well-loved icons".
'Groundbreaking project'
"Asking citizen curators to help us equip the Silk Mill's ground floor reflects the story of how Derby made its name through engineering and manufacturing," added Ms Fox.
"It encourages people to unlock the maker, creator and innovator in themselves and believe that with skills, knowledge and confidence, anything is possible.
"That message will become key to the re-imagining of the Silk Mill as a major attraction, which is why we believe it is entirely fitting for us to launch the groundbreaking Remake the Museum project. We can't wait to get started."
A spokesperson for Derby City Council said renovation work included stripping out asbestos, upgrading services and facilities and creating workshop spaces.
They added: "In the long term, the building will be renovated so three floors of the mill will be open to the public as a major museum attraction, subject to a successful bid for £15m from the Heritage Lottery Fund and organisations within Derby."
The ground floor is expected to open in spring next year with exhibitions and activities to celebrate the city's achievements in science, technology and engineering art.
Last month Derby Museums received a £20,000 grant from the Happy Museum Project, which was set up to help museums try out new ways to get people involved in local schemes.
Anyone who would like to join as a citizen curator can visit a Mini Maker Fair at the end of October.