Derbyshire Fire Service propose cutting 'third of stations'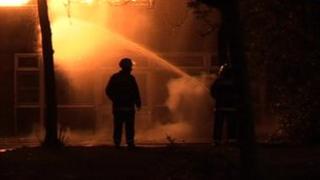 Derbyshire Fire Service has announced plans to reduce the number of fire stations in the county by a third and cut a quarter of full-time posts to deal with a 40% cut to its budget.
The service wants to reduce the number of stations from 31 to 20, with a loss of 78 full-time firefighters.
Chief fire officer Sean Frayne said the service would remain "fit to respond" but admitted it would be affected.
The Fire Brigades' Union (FBU) said it had "concerns" over the proposals.
The service's budget for the current financial year has been £39.1m.
The plans were approved at a meeting of the Derbyshire Fire Authority (DFA), which oversees the running of the service, on Thursday and revealed to staff on Friday.
Details of its proposals will be subject to a public consultation, which will open on Tuesday.
Mr Frayne said he was "satisfied the service can continue to provide an excellent effective service to our communities".
DFA chairman Roland Hosker said it was "always difficult to make decisions that are borne out of budget constraints, but as a forward thinking service, Derbyshire is showing that it is making sound business decisions which will ensure the service is efficient, effective and robust".
The plans would see a reduction in the number of full time firefighters but increased use of retained personnel, officers who are called into work following emergency call-outs. The service currently has about 300 full-time and 300 retained posts.
Across the county, 19 fire stations could close with eight stations opening, a move the FBU understands will not cost anything as land is sold off.
A spokesman said the proposals would allow the service to meet a response standard of one appliance arriving to a scene within 10 minutes on 75% of occasions - a drop of 5% on its current target.
Marc Redford, chairman of the Derbyshire FBU, said he wanted to examine the proposal in more detail but added that the job cuts were of "grave concern for us, particularly for the future of the service".