Derbyshire Police strip searches 'excessive'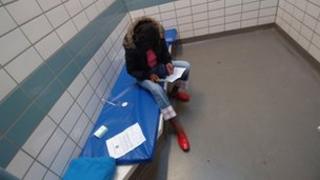 Derbyshire police's use of strip searches in its custody suites has been labelled "concerning" by inspectors.
The independent snap inspection, carried out in May, found there was a "high incidence" of strip searching of detainees, which it said was "excessive".
It called for the force to stop the "over-use" of the tactic but also praised other areas of "good practice".
A Derbyshire Police spokesman said it welcomed the report.
The inspection was carried out by Nick Hardwick, the chief inspector of prisons, and Dru Sharpling, HM Inspector of Constabulary.
The report said: "On several occasions we observed detainees admitting to having used drugs in the last 24 hours and then being told by custody staff they would need to be strip searched because of this."
Strip-searched 'on CCTV'
It said this contravened guidelines, which said strip searching should only be conducted if the officer suspects the detainee may be concealing an item from them.
The report added strip searches at Derby and Chesterfield had taken place in a cell monitored by CCTV and therefore visible on the monitor behind the custody desk.
"This should have been turned off," it said. "The force needed to address the over-use of strip searching."
They asked for the force to consider their findings and provide an action plan.
However, the inspectors praised other "areas of excellence" including the way the the custody staff interacted with detainees and the condition of the cells.
Supt Sunita Gamblin, head of the force's criminal justice department, said she was pleased the report "recognised areas of good practice within the Derbyshire Constabulary".
She added: "In respect of the strip search policy, our approach has always been based on minimising the risk to detainees as their safety is our main priority.
"We want to ensure that detainees aren't in possession of anything which they could use to harm themselves while they are detained in a cell."
She said the force would consider the recommendations to ensure officers searched in a way that balanced the safety of detainees with their privacy.