Peak District: Walker completes seven-year challenge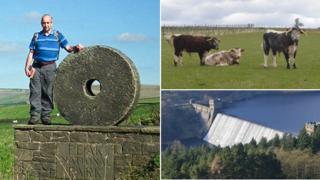 A rambler who was attacked by a swarm of bees and chased by bullocks and sheep has completed a seven-year challenge to walk the Peak District.
Brian Couzins, from Staffordshire, visited each of the national park's 555 square miles during the 1,346-mile trip, made up of 186 walks.
The 55-year-old software specialist started the challenge when he moved to Leek in 2006.
He said he had been told the best way to get to know the area was to walk it.
The Peak District National Park is largely in Derbyshire, but covers parts of Staffordshire, Cheshire, Greater Manchester and South and West Yorkshire.
The national park also includes Kinder Scout, the site of the 1932 mass trespass that led to the formation of National Parks.
Mr Couzins, who undertook the walks mainly at weekends and alone, said it was "fantastic to get away from the tourist hot spots and get to know the Peaks in all their splendour and diversity, and in different conditions".
He added that his worst experience was on Chatsworth Moor in 2009 when he was walking past a fence, the other side of which were bee hives.
He said: "A swarm flew up and attacked me - luckily, I had phone reception and managed to dial 999.
"I'll be eternally grateful to the air ambulance which came to the rescue.
"The doctor quickly injected me with anti-histamine, while the paramedics were pulling stings out of my head."
During the challenge, Mr Couzins was also chased by dogs, horses, bullocks and sheep - and found himself navigating through a remote area riddled with animal traps, hidden pits and snares, near Ladybower.
On one occasion he came face to face with a bullock, near Buxton, which started running towards him.
Mr Couzins said he thought his best course of action was to go towards it, which had the desired effect.
He also recalled walking through a field and being chased by dozens of sheep.
He said: "It was like something from an old Western movie when the cavalry turn up, but with sheep.
"I could see my car parked just over the gate - and luckily was able to leap over it and escape.
He said he now plans to write a book detailing his walks and highlighting the challenging points in each area.