Derbyshire County Council considers pay rise for councillors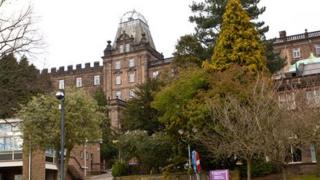 A council looks set to increase the pay of its cabinet, just days after it said it was cutting 1,600 jobs.
Derbyshire County Council is expected to vote for increases for allowances for most of the cabinet, while reducing the number of members.
Leader of the Labour council Anne Western, said it was "relatively cost neutral" and they needed a strong team.
The only recommendation likely to be rejected is a salary increase for the opposition leader.
Ms Western said the pay rise was approved by a group of independent experts, known as the independent remuneration panel.
She added the increase would reflect the increased workload of the cabinet after the number of members was reduced from nine to six.
She denied an accusation she considered councillors more important than employees.
'Neutering opposition'
On Tuesday, she announced the council's intention to cut 1,600 jobs from the council in an attempt to save £157m over the next five years.
"We've got a cabinet that's very capable, some of whom have given up well-paid, professional jobs to dedicate their time to the job they have in cabinet," she said.
"If we want people of that level to come in, we have got to be able to give them something they can keep themselves and their families."
But the panel also proposed a rise for the leader of the main opposition, currently the Conservatives, from £8,217 to £14,790, which is likely to be rejected.
Barry Lewis, secretary of the Conservative group, claimed it was an attempt to "neuter" the opposition.
He said: "The leader of the opposition party is a massive role and it's one that challenges and scrutinises the leadership of the administration.
"[The proposal] is clearly designed so the leader of the opposition will spend less time doing what he or she would need to be doing."
The recommendations will go before full council on Wednesday.