Derbyshire's elderly 'could be left isolated', says union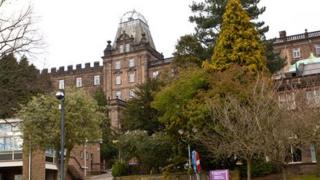 Elderly people in Derbyshire could be left isolated if the county council presses ahead with job cuts, a union has said.
On Tuesday, the Labour-run council announced it was to cut up to 1,600 jobs in a bid to help save £157m over the next five years.
Unison, which represents many staff, said it feared adult care services would bear the brunt of the cuts.
However, Conservative councillors said the authority had to make savings.
'Don't feel appreciated'
Unison's lead negotiator Mick Wilson said the staff cuts would result in the loss of "vital services" for the elderly.
"The government is reducing the public sector and argues the private sector can pick up the slack," he said.
"But some rural areas in Derbyshire don't have private care. A lot of people rely on public services.
"If we can't provide services, the simple fact is people will not get that service.
"Elderly people will be left isolated in Derbyshire."
Mr Wilson said the union planned to hold more detailed negotiations with the council to ensure all options had been exhausted before jobs were lost.
'Completely unpalatable'
Andy Belfield, Unison's head of local government, said: "I am sure every big organisation has a person or two whom it could live without but I don't believe there are 1,600 people doing an unnecessary job at the council.
"If you go into any school or the social services department, you won't find people sitting around with their feet up having a cuppa."
However, Dan Hopkinson from Matlock, who worked for the council's education department until 2001, claimed the authority had been "overstaffed for years".
"When I was there, there were people swanning round doing absolutely nothing and paid a good wage for it," he said. "This has been coming for a long time."
The council said it hoped "natural wastage" would account for many of the job losses.
Council leader Anne Western said: "Things which were completely unpalatable are having to be considered in order to balance the council's budget."
A Department for Communities and Local Government spokesman said the cuts were being shared by all authorities.
Conservative councillor Mike Longden said the council, which has more than £214m in its reserves, was "in denial" about the cause of the cuts and the government had "no choice" about the savings it was making.