Derbyshire A50 closed after 70 people involved in pile-up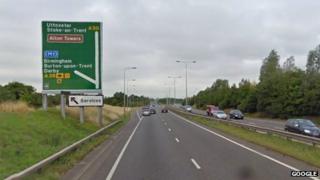 Police said it was "amazing" only one person was seriously injured in a pile-up on the A50 near Derby involving about 70 people in four vehicles.
The crash, at about 20:30 BST on Tuesday, involved a 52-seater Megabus, a Renault lorry and two cars.
One man was taken to hospital and others were treated at the scene. A replacement coach was sent to pick up the stranded passengers.
The westbound carriageway remained shut until about 01:00 BST on Wednesday.
The accident caused severe tailbacks and the road was not cleared until shortly before 01:50 BST.
A 51-year-old man from Stoke, who was driving a VW Golf, suffered broken ribs and was taken to the Queen's Medical Centre in Nottingham for treatment.
Dean Beresford was stuck in the jam for about five hours. He tweeted: "Sat on A50... just hoping no-one hurt bad, think every blue light in Derby at the scene #A50."
A spokeswoman for megabus.com said the coach was travelling from London to Preston when it was involved in the collision.
"Two coach passengers reported sustaining minor injuries as a result of the incident although they did not require hospital treatment," she said.
"Our immediate thoughts are for the welfare of those involved. We are assisting police with their investigation into this incident."