Rachael Slack inquest: Neighbour heard cries for help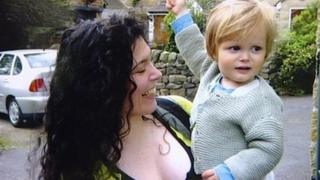 The neighbour of a woman stabbed to death with her young son at their Derbyshire home has told an inquest how she heard her cries for help.
Rachael Slack, 38, her 23-month-old son Auden and ex-partner Andrew Cairns, 44, were found dead on 2 June 2010.
Neighbour Norma Way said she could see Ms Slack through the window of her Holbrook cottage with a man behind her, before she started screaming for help.
She said she called 999 and tried to enter the cottage but it was locked.
Mrs Way told the inquest: "She was calling to me Norma, Norma call the police. I saw the man's arm gesturing to me to go away.
"I rang the police and Rachael started to scream then loudly. I couldn't hear the child which worried me. Why wasn't he crying?"
Screams stopped
She said in the few seconds she saw Ms Slack at the window she looked very strained and frightened, Derby and South Derbyshire Coroner's Court was told.
Mrs Way said the screams stopped and started again less loudly.
She said a policeman arrived at the scene and managed to prize open a window.
"I said can you see her? He said she's lying on top of a child and there's a man on top of her."
Adrian Ward, the first paramedic to arrive at the scene told the inquest he had climbed through the open window but could see no signs of life in Ms Slack or Mr Cairns.
He said he took over from a police officer, who was trying to resuscitate the toddler but his heart had stopped because of his injuries.
Small kitchen knife
Mr Ward said Auden was taken to hospital in an ambulance but "there was not a flicker of response from him on the whole journey."
He was pronounced dead at the Royal Derby Hospital.
John Watkin-Bennett, a paramedic team leader who went into the house after Mr Ward, said in written evidence that he had found Ms Slack with stab wounds to the head.
He said Mr Cairns had numerous wounds and he had found a small kitchen knife underneath him.
The inquest had heard Mr Cairns suffered from mental health problems since the break-up of his relationship with Ms Slack in 2009.
Home Office pathologist Professor Guy Rutty told the hearing he believed Mr Cairns's wounds were self-inflicted.
Ms Slack was pregnant at the time of her death and in a new relationship.
The inquest continues.