Peak District green lanes get permanent vehicle bans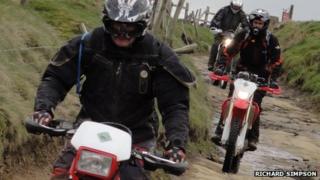 Two Peak District routes are to get permanent vehicle bans despite protests from campaigners.
Long Causeway and Roych will both be subject to full traffic orders when limited controls associated with repair work come to an end.
The park authority said the restrictions were needed to protect the wildlife and character of the trails, known as green lanes.
But a pro vehicle group said it would lead to a "sanitised" countryside.
Park officials have been looking to cut the use of motor vehicles on the green lanes - a series of unsurfaced routes - for several years but have faced repeated protests and even legal action.
Now permanent orders have been approved for the 2.2 mile (3.5km) Roych, part of the Pennine Bridleway, near Chapel-en-le-Frith and a similar length of Long Causeway near Stanage Edge.
Christopher Pennell, who chairs the committee which made the latest decision, said: "We have given careful consideration to a range of options including partial restrictions of vehicle access, but, these would not have safeguarded the area's exceptional natural beauty and internationally important wildlife and habitats.
"In view of the area's significant environmental sensitivity and to preserve opportunities for its quiet enjoyment, the committee decided the best option for Long Causeway is to stop vehicles from using it."
Both routes currently have restrictions imposed by Derbyshire County Council during repair work.
The park authority's traffic orders come into force when the work finishes but no date for this has been confirmed.
Officials also said all similar routes would be monitored and further restrictions would be considered if damage was detected.
Richard Simpson, from Trail Riders Fellowship, said: "We are not surprised, the committee had its mind made up on this from the off.
"The park authority is spending a lot of money to exclude people who bring important revenue.
"I can see this ending with everyone, including mountain bikers and horse riders, restricted to a few approved routes in a very sanitised version of the countryside."