Rachael Slack inquest: Police called over 'manipulative' ex-partner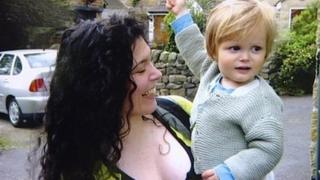 An inquest into the death of a mother and her son found stabbed at their home has heard a police call made days earlier.
Rachael Slack, 38, was found dead at her home in Derbyshire on 2 June 2010.
Police also found her former partner Andrew Cairns, 44 and their 23-month-old son Auden with stab wounds.
Derby and South Derbyshire Coroner's Court heard how Ms Slack said she felt "violated" by Mr Cairns a day after he was arrested for making death threats.
The jury heard the pair had split in 2009 because of Mr Cairns' deteriorating mental health.
Being 'manipulative'
After being arrested for making death threats to Ms Slack, Mr Cairns was released without action and warned not to approach or contact her.
The next day he arrived at her cottage in Holbrook.
In a call made to Derbyshire Police on 27 May, Ms Slack, who was pregnant at the time, said: "He just turned up at my house. I feel a bit violated.
"Whatever I say he's not really respecting it. I don't know how to deal with it really."
The operator asked her if she would like an officer to remove him, to which she replied: "I'll try and do it myself so I'm not bothering anybody today."
Asked if he was violent, she said: "No, he's just manipulative. But if I have a problem where I can't do that I'll ring back."
Safe and secure
Dr Saladi Sudhakar, the consultant psychiatrist who assessed Mr Cairns after his arrest, said he was considered to be at "low risk" of self harm or suicide.
Giving evidence, Dr Sudhakar said Mr Cairns had "not shown any evidence of acute mental illness" and he wanted to spend more time with his son.
Robert Barlow, Ms Slack's partner at the time, told the inquest he left her house on 2 June "knowing it was securely bolted and she should be safe inside".
He said Ms Slack was "so upset" about what had happened, they kept in constant touch about each other's movements.
He said he had a "happy text exchange" with Ms Slack at about 10:23 BST.
An hour later their bodies were found by emergency services.
Last week, the inquest heard Ms Slack had been in contact with Derbyshire Police about her concerns for Cairns and his mental health after she told him about her new relationship and pregnancy.
The hearing continues.