HS2 'could boost East Midlands business' by billions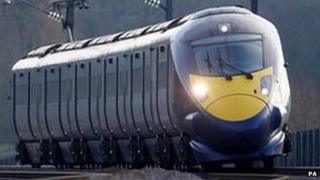 The HS2 rail project could give a £2.2bn annual boost to Derby and Nottingham's economies, according to a new report.
The report, from accountants KPMG, said the gains for the two cities could be among the biggest in the country.
Derbyshire Dales MP and Transport Secretary Patrick McLoughlin said the project would help unite the country.
But MPs in Leicestershire said they were "angry" about the county being overlooked in the report.
'The big winners'
The report, named High Speed Two: Regional Economic Impacts, was commissioned by the company behind the HS2 development.
It said rail connection for businesses in Nottingham and Derby could improve by 23.2% - the biggest increase in the country.
The report's authors claimed the improved connection would give the two cities the biggest productivity increase in the country, valued at between £1.1bn and £2.2bn a year.
This would be the equivalent of a 2.2% to 4.3% increase. The report suggests this would be felt in 2037 - five years after the line's completion.
Richard Threlfall, head of infrastructure, building and construction at KPMG, said: "Nottingham and Derby will see some of the biggest gains in the whole country.
"The reason they are the big winners is they will end up with better links to the north and the south."
But Andrew Bridgen, Conservative MP for North West Leicestershire, said his constituents would have "all the pain and no gain" and that he could not support a project that "only delivered 50p of value for every £1 spent on it".
Labour councillor and deputy mayor of Leicester, Rory Palmer, added: "I'm really angry and frustrated because Leicester gets no more than a passing reference in this report whereas we could benefit from HS2 by having a direct link once it's built."