Derbyshire speed cameras to be digitised in £1m scheme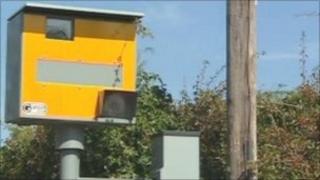 Speed cameras in Derbyshire are to become digitised, at a cost of £1m.
The money will be used to transform 60 camera boxes in the wider county and 10 in Derby to make them capable of housing digital cameras.
The county council currently has a total of 12 film cameras, which are rotated between 113 boxes, and they will also be upgraded to digital.
Derby and Derbyshire Road Safety Partnership said the 70 sites were chosen based on accident figures.
Making the switch
In a statement, the partnership said: "We keep a close eye on the areas where people are getting killed or hurt and we move those cameras to the sites where they are needed most at any particular time.
"We've decided to make the switch because we hope it will allow us to make savings in the long term.
"As more areas make the switch, it's going to get harder and more expensive to get replacement parts and servicing for those with film-based systems."
As a result of the upgrading, Derbyshire's remaining 43 camera boxes, which are currently only film-capable, will stay unused until further notice.
Last year, a survey by the Road Safety Survey showed only one in 17 cameras across the East Midlands was digital, which is considered more reliable than standard film.
At the time, Derbyshire and Lincolnshire were the only county councils in the region without any digital cameras.
Derbyshire councillors met earlier and voted to introduce the scheme.