Last pub in Derbyshire village saved, say residents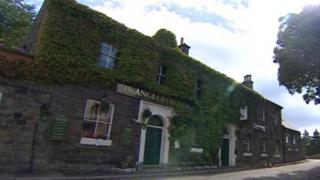 The last pub in a Derbyshire village has been "saved", after its owners agreed to sell it to a community group.
Admiral Taverns, which owns the Angler's Rest, in Bamford, had previously agreed to sell it to another bidder, causing an outcry in the area.
However, the company said it recognised the "local community feels passionately" about owning the pub and has rescinded the sale.
They said they would reach an agreement with the community "in due course".
'Triumph for local people'
The pub had been registered as an Asset of Community value, under the Localism Act, by the Bamford Co-operative Society.
The society plans to run the Angler's Rest as a pub, post office, cafe, parking and accommodation.
They had launched a scheme to sell shares in the business and have raised £184,500 since July.
They planned to meet the remainder of the £320,000 asking price with low-interest loans.
The pub has had ten different landlords in ten years.
Villager Rebecca McIntyre said: "We are delighted. We were contacted on Friday by Admiral Taverns to say the way was clear for us to buy the pub.
"We will be instructing our solicitor first thing Monday morning.
"Although we have enough money to buy the pub, the confusion over the sale has meant a two-week pause in our fundraising campaign, so we still desperately need people to invest in shares."
Mark Bawden, another society member, said: "The people of Bamford have worked for 18 months to secure the future of the pub and also to prevent the village post office from closing, by housing it in the Angler's Rest.
"This decision is a real triumph for local people over big business.
"This new venture is going to be the heart of the community and the fact that it is run by and for local people will make it a real community hub."
A spokesperson for Admiral Taverns said: "I am pleased to confirm Admiral Taverns has reached an agreement with the purchaser of the Angler's Rest to rescind the sale, enabling the residents of Bamford to purchase the pub.
"The pub will now be available for the local community to proceed with a purchase."