Darley Park Concert: City council could axe free summer gig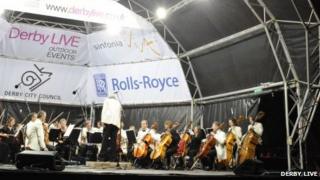 A free classical concert in Derby is under threat because the city council says it is too expensive to run.
The Darley Park Concert, which is held every year, costs £100,000 but council leaders said that money should be spent on frontline services.
Councillor Martin Repton said he was "working night and day" to find alternative funding or sponsorship.
Tens of thousands of people attended Sunday's concert, which featured the Sinfonia Viva and a fireworks display.
'Open to suggestions'
Mr Repton said: "We are exploring ways to find sponsorship but is it a massive challenge.
"I have supported the concert for 23 years - I am open to suggestions and ideas but it will not be easy to find that £100,000."
He said the money spent to run the concert could be used to hire four teachers or four social workers.
Alison Grimwood, from the Friends of Darley Open Spaces, said the council should consider charging for the concert or running it every two years.
Mr Repton said the council was "actively looking at ways of saving the concert either as a paid event or sponsored event".