British team first to climb Himalayan mountain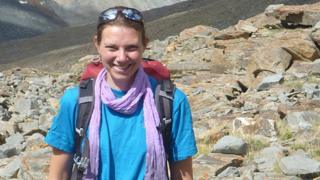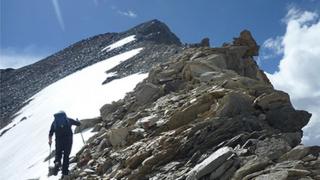 A British team has become the first in the world to climb a 6,046m (19,835 feet) Himalayan mountain.
Caroline McCann, 40, from Glossop, and Matthew Jones, from Salford, ascended the previously unnamed Cha Ri mountain on 24 August.
The team had been given official approval by the Indian government to explore the unvisited mountain range.
Miss McCann, a graphic designer, said it was the first time she had climbed a mountain of that height.
'Snowstorms, hailstorms and frost'
"It's been a bit of a blur," she said of the expedition, which had been planned for two years.
"The reality of what we had done didn't hit us until we got back to civilisation and could let our friends and family know we were safe."
The trek was led by Doug Briton, a climber from Linlithgow, in West Lothian.
He had become aware of the mountain Cha Ri, which means Mountain of the Flying Bird, while working in the area and found it was listed as unexplored by the Indian government.
Due to deteriorating rock at the summit, the final eight metres were considered too dangerous for the team to climb.
"There are quite a few mountains in that area that haven't been scaled because they are quite out-of-the-way," said Miss McCann, an experienced climber and part-time outdoor instructor.
"The people who live there aren't as interested in climbing them as westerners are. It's quite a harsh life and they work hard enough just to make a living."
The expedition took 12 days. The team left the nearest town, Leh, on 17 August, accompanied by a small support team, plus an Indian government official who monitored the climb.
Miss McCann said the conditions were extremely challenging.
"At night we were getting snowstorms, hailstorms and frost," she said.
"The atmosphere was incredibly dry and everything we did was an effort."
During the expedition, the team found a previously undiscovered glacial lake and were able to alert the government to its existence upon their return.
However, Miss McCann said their main motivation for climbing the mountain was "a love of exploration".
Miss McCann said she felt "too exhausted" to appreciate the scale of her achievement and was anxious about the descent.
"We knew it was towards the end of the climbing season and we had about a week to get the climb done," she said. "We were flying by the seat of our pants. We had no way of getting a weather forecast up there.
"We could see the weather was deteriorating and we had to get out."
However, upon the team's return to base camp, she began to feel "overwhelmed" at what she had done.
"I still can't quite believe it," she said.
Miss McCann, who returned to Derbyshire on Sunday, said she hoped to do more exploration in the future.