Petition over Peak District Stanage Edge 'sale' plan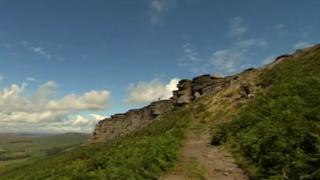 The British Mountaineering Council (BMC) has started a petition over fears access rights could be restricted in the Peak District National Park.
The Peak District National Park Authority (PDNPA) is looking for ways of raising money to make 35% savings.
One possible plan is to sell the North Lees Estate, which contains a large part of Stanage Edge in Derbyshire - a popular area for climbers and walkers.
The authority said it would only sell the estate to the "right organisation".
'No compromises'
The PDNPA's chief executive, Jim Dixon, said the North Lees Estate was "very valuable".
"It is worth an enormous amount to the nation for its landscape, wildlife and access - way more than its capital cash value.
"It's quite unlikely we will end up selling it - it's more likely we'll end up with a long-term lease.
"But I can absolutely guarantee that the decisions we make about the land in the national park will not compromise the access for the community or the conservation."
Henry Folkard, from the BMC, said if the North Lees Estate was sold and shooting rights restored - something which could be considered - access rights would be restricted.
"We're not opposed to the PDNPA raising money but it's the way they go about doing it - some ways are more appropriate than others.
"Anything that restricts access, we would resist strongly."
The PDNPA will meet later this month to discuss its plans.