Derby County e-cigarettes deal criticised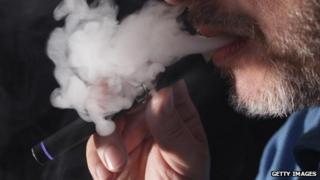 Derby County should not have signed a sponsorship deal with an electronic cigarette company, a health professional claims.
Under the partnership, sample E-Lites e-cigarettes are being given to fans at Pride Park on some match-days.
The club says it is providing smokers with a "healthier and safer option".
But Tina Jones, tobacco control manager for Derbyshire Community Health Services, says not enough is known about the safety of e-cigarettes.
'Helping fans'
Ms Jones said: "I think it is perhaps premature for Derby FC to be doing this - the best thing for people to do is to stop smoking altogether and to stop using nicotine."
She added: "There is growing evidence that young people are using these products and the last thing we want to do is start promoting smoking to young people.
"Sporting clubs and places associated with health should look very carefully at their sponsorship deals," she said.
Director of the European Healthy Stadia Network, Matthew Philpott, said: "We are currently speaking to both the Premier League and Football League about issues concerning use and promotion of e-cigarettes at sports stadia.
He added: "From our perspective, whilst e-cigarettes may be useful in helping smokers give up traditional tobacco products, we cannot condone the marketing tactic of free e-cigarette giveaways at football stadia as this could stimulate new usage amongst non-smokers, or worse, stimulate interest amongst young people."
Campaigner Martin Dockrell, from Action on Smoking and Health (ASH), said they were concerned about marketing to children.
He said: "From 2016 these products will have to be licensed or removed from the market and that means they will be severely constrained in their use of give-aways and celebrity endorsement.
"If this partnership is to last then E-lites and Derby County will need to get their house in order and there is no time like the present."
However, Derby County's advertising and partnership executive, George Harborne, said: "Derby County are committed to helping fans who smoke lead healthier lifestyles.
"By offering E-Lites as an alternative we hope to encourage fans to take up a far healthier and safer option."
The e-cigarette brand's website states that electronic cigarettes are "the smoking alternative favoured by celebs" and features photos of celebrity users, including Leonardo DiCaprio and Johnny Depp.
The EU banned sponsorship of sporting events by tobacco firms in 2005.
Sales of tobacco-free cigarettes have boomed worldwide since bans on smoking in public places were introduced.
Earlier this month, Merthyr Town FC announced that it would rename its stadium after an e-cigarette brand as part of a three-year deal.
Club officials said they had been trying to find a sponsor since fans took over following liquidation three years ago.