Nottinghamshire prison worker 'turned blind eye' to drugs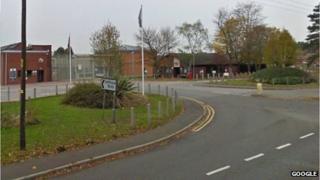 A support worker at a Nottinghamshire prison was paid to "turn a blind eye" to parcels of drugs being distributed to inmates, a court has heard.
James Smith, 22, of Kingsmead, Retford, who worked at HMP Ranby, was jailed for a year.
Nottingham Crown Court heard he was paid hundreds of pounds to ignore drugs being delivered to inmate Luke Carlisle, who worked with him in the prison clothing store.
Carlisle, 29, was jailed for two years.
Significant amounts of cash
The court heard Smith did nothing to stop Carlisle taking the drug deliveries and distributing them in the prison.
The pair were arrested on 26 April 2012.
A third man, Nelson Neish, of Laindon Road, Manchester, was found to be the man behind the payments.
He was arrested by Nottinghamshire officers on 9 October 2012. The force said he had drugs and significant amounts of cash in his possession.
Neish was jailed for 18 months.
All three men pleaded guilty to conspiring to supply prohibited articles at the prison between 20 March 2012 and 18 April 2012.
Neish also pleaded guilty to possession with intent to supply class C drugs.
Smith had previously entered a guilty plea for misconduct.
Det Insp Rob McKinnell from Nottinghamshire Police said: "Anyone who commits to supplying drugs into a prison should not labour under the misapprehension that it will not be noticed, reported or investigated."