Pinxton cyclist's Facebook crash plea shared 11,500 times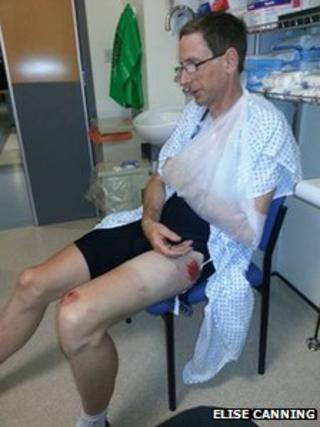 An appeal to find the driver who knocked a cyclist off his bike in his Range Rover has been shared more than 11,500 times online.
Mark Canning said he was deliberately run over on the A6 at Whatstandwell, in Derbyshire, breaking his hand and causing serious damage to his bike.
A picture of him in hospital has been viewed thousands of times on Facebook.
Police are now investigating and appealing for witnesses to the crash, which happened on 11 August.
'A maniac'
Mr Canning, of Pinxton, said the man took exception to him shaking his head after he was forced to brake hard to avoid crashing into the back of the Range Rover.
The driver then got out of his vehicle and twice ran towards him, Mr Canning said.
"At this point I thought, 'This guy is a maniac, I need to get off the road.' I was thinking about a lay-by a bit further down where there's a burger van and quite often bikers, to try and get in there for a bit of assistance," he said.
"But, before I knew it I've been knocked off, he has clipped me from the side."
After the crash his wife Elise posted a picture of her husband and his injuries online to appeal for information, which has been shared with other users nearly 12,000 times.
Derbyshire Police said they are investigating and appealing to anyone who might have seen anything at about 11:30 BST on 11 August.
The man was described as in his 50s or 60s and had a grey-haired female passenger in the car at the time.