Derby's London Road bridge closes for a year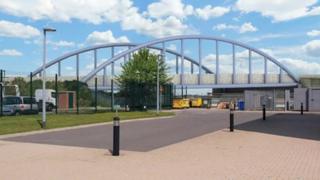 A year of disruption to one of the key routes in and out of Derby has started.
A £7m project, to replace the Victorian London Road bridge, saw the road close on Monday.
The city council acknowledged the move would cause problems but said the structure had reached the end of its useful life.
The bridge also spans the Derby to Birmingham rail line but it is hoped that train services will rarely be affected.
Phil Massey, from the city council, said the bridge, which dates from 1878, is no longer up to the job.
Weight restriction
"It was designed for a very different mix of traffic, something like horses and carts and the odd traction engine, and really it has outlived its use," he said.
"We have been managing its condition to prolong its life until we could put a scheme together to replace it."
In the early days of the work, the footpaths will remain open but then a temporary pedestrian crossing will be built.
Traffic to and from the city centre will be diverted along the A6 through Pride Park.
Once finished, the current 7.5 tonne weight restriction will be removed.