Derby Gay Pride march hit by cash woes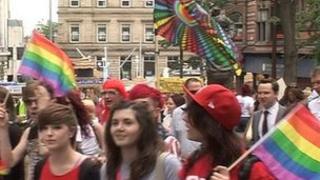 The main Derby Gay Pride celebrations have been cancelled, due mainly to a lack of funding.
Organisers said they were "devastated" the event, planned for 14 September, had not attracted enough sponsorship.
In previous years, it has involved a parade through the city centre, followed by a party at Bass Recreation Ground.
While they were still looking at some sort of celebration, organisers said it would be on a much smaller scale.
'Upset and angry'
A team of volunteers said they had been working all year to attract backing to cover the £10,000 cost but had not succeeded.
A member of the event committee, Lucy French, said: "A lot of people want it but they don't realise how much money it takes.
"There are a lot of costs that people don't see, things like insurance, hiring toilets and security, and the event has always been free."
She added: "People are upset and angry but we are determined to do all we can to put something on."