'Cracking' closes gateway to £2.2m Derby station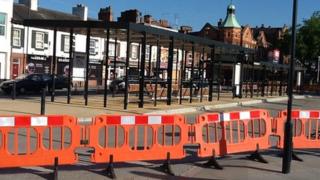 The forecourt to a £2.2m railway station in Derby has closed for £30,000 repairs four months after it opened.
When it opened in April, the forecourt was described by the city council as "a bold and positive statement to welcome people to Derby".
However, it has now closed the area for 11 days to remove a surfacing material, which is "bubbling and cracking".
East Midlands Trains said the station would remain open but transport groups described the situation as "a mess".
'Embarrassing is the word'
Jim Froggatt, the chairman of East Midlands Travelwatch, a public transport user group, said: "It's very disappointing there's a problem so soon after the work was completed.
"There are no signs to say what the problem is or where you should go.
"If you arrived by bus, you'd think, 'Where's our nice, new interchange?'
"It's just a mess, to be honest. I think embarrassing is probably the right word for it."
Taxi driver Zahir Iqbal said: "It has caused a lot of disruption for us and our customers. It's going to cause a lot of congestion."
A female passenger said: "We had to wait a long time for them to do it in the first place, so it's ridiculous they have had to do it again."
The council's director of planning, Christine Durrant, said: "What's happened is the anti-skid surface material has failed for some reason. What it has meant is that the surface has been bubbling up, causing a trip hazard.
"We decided the best approach was to take it up and replace it with Tarmac.
"I think it's just one of those unfortunate things that happens in a construction project."
She said the cost of the resurfacing was "not that great" compared to the cost of the overall project and would be picked up by the city council.
East Midlands Trains said passengers would not be affected.