Denby Pottery workers in Derbyshire on strike over pay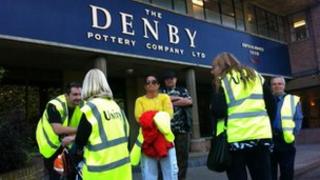 Staff at a Derbyshire ceramics company are holding a one-day strike in a row over pay.
Employees at Denby Pottery have formed a picket line outside the distribution centre in Wayzgoose Drive, Chaddesden.
The Unity union said workers have been offered little or no pay increases over the past five years despite being asked to hit strict targets.
Denby Holdings said it was regrettable they could not offer staff a salary increase this year.
'Not greedy'
Garry Biggs, managing director of Denby Group, said: "Industrial action will serve no purpose and will create further hardship for both employees and the business in what continues to be a difficult trading environment.
"Employees have been given a fair and honest picture of the company's financial position."
Harry Hockaday, general secretary of Unity, said 140 members had not arrived for work.
He said: "These people [the staff] are not greedy. People are working overtime, they're taking on temporary labour, those aren't the signs of a company that's got problems."