Holiday park removes 'inappropriate' memorial tribute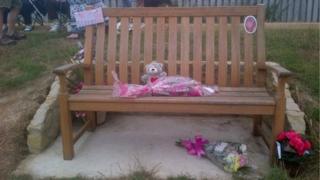 A family's tribute to a Derbyshire woman killed in a landslide has been removed by a holiday park.
The memorial to Charlotte Blackman, 22, from Heanor, who died in July 2012, was described as "inappropriate" by Freshwater Beach Holiday Park, Dorset.
In a letter to Charlotte's family, the park's general manager said the tributes had been "tidied" so the area "looked more presentable".
Charlotte's mother, Rachel Blackman, said she was shocked at the move.
'Treated as a shrine'
Charlotte, who was crushed by rocks as she walked along Hive Beach in Burton Bradstock, had been staying at the park at the time of the tragedy.
Mrs Blackman said the tributes, including a plaque, a toy and flowers, had been placed on a park bench which the family had put there in September 2012.
In July, on the anniversary of Charlotte's death, seven family members had travelled to the park to lay the tributes.
"We had ordered some butterflies which we released at 12.30 BST, which was the actual time the landslide fell," Mrs Blackman said.
"Sinead, Charlotte's sister, had brought a teddy bear and a little plaque and we had a nice bouquet of flowers. But we were not excessive with the amount of flowers."
Shortly after the family returned from their visit, they received a letter from the holiday park informing them their tributes were not "appropriate" and had been "tidied".
The letter, which was signed by the park's general manager, said: "While we are happy for the bench to remain at Freshwater, we don't think it appropriate for the area around it to be treated as a shrine.
"To that end, we have tidied the area so it looks more presentable."
Mrs Blackman said she had found the letter upsetting.
"We knew they would have to remove the bouquets because obviously they will die, but to remove all the items has really upset Sinead. We had planned for months what we were going to take down," she said.
"It's the way they have gone about it. They could have sent the teddy bear and the plaque back to us."
She said her husband wants to remove the bench from the park and bring it back to Derbyshire.
The holiday park declined to comment.