International support for bid to buy Peak District pub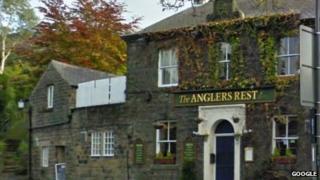 Derbyshire residents trying to raise more than £300,000 to buy their village's last remaining pub say they have had donations from as far afield as Thailand and Australia.
Villagers in Bamford, in the Peak District, want to turn the Anglers Rest into a "community hub" and have so far raised £127,000.
The pub's owner Admiral Taverns said it will consider offers around £320,000.
The locals hope to reach their target by September.
They formed a co-operative, named the Bamford Community Society, and have been selling shares in the business since July.
'Delighted with support'
David Treacher, one of the society's members, said: "We have had donations from as far afield as Thailand and Australia from people who visited the area a few years ago and have fond memories of it.
"That's how much the place means to people.
"It's surprising how strongly people feel about keeping the local pub alive."
The community, which has about 2,000 residents in Bamford and surrounding hamlets, plans to relocate the village post office into the pub, and also open a cafe.
They say they will employ a manager to operate it.
Liz Marshall, a member of the society's steering group, said: "We are delighted with the response and support we have received so far.
"Many rural services have come under pressure and one way for them to survive and prosper is through community ownership."
A spokeswoman for Admiral Taverns said the company was in discussions with the community and would consider all bids.
She said: "We acquired the pub about three years ago. We have had a few tenants in there who unfortunately haven't been able to make it a viable business.
"The pub doesn't really sit within our estate any more and may work better sitting with a community-led ownership."