Derby fire deaths: Mairead Philpott and Paul Mosley renew appeal bid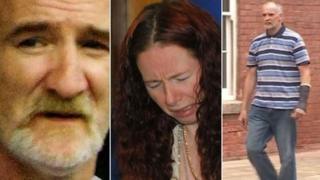 Two people found guilty of killing six children in a Derby house fire have made a second attempt to appeal against their sentences.
Mairead Philpott, the children's mother, and family friend Paul Mosley were jailed for 17 years for their part in a fire at Victory Road in May 2012.
The pair's initial appeal was rejected but the Judicial Office confirmed they have submitted a renewed application.
A date for the hearing, at the Court of Appeal, has yet to be set.
'Walter Mitty character'
Andy Lyons, Mosley's brother-in-law, said he had fully expected the second appeal.
"It's not unexpected," he said. "They were selfish in their actions on that night, selfish throughout the questioning by the police, they were selfish in the court trial - why stop now?"
He described Mosley as a "Walter Mitty character" who may not understand that he has done anything wrong.
"He doesn't understand life," he said. "That was the only mitigation they offered for him in court.
"From my point of view, we have very little to do with him anyway and we will have nothing to do with him for the rest of his life.
"I believe the appeal is frivolous."
The pair's previous appeal was dismissed by Mr Justice Henriques on 15 July.
Mick Philpott, Mairead's husband, has not tried to appeal against the life sentence he received for manslaughter.
The trio were found guilty in a trial at Nottingham Crown Court of pouring petrol in the house and lighting it to frame Mick Philpott's former lover in a custody battle.
Jade Philpott, 10, and brothers John, nine, Jack, seven, Jesse, six, and Jayden, five, died in the blaze, while Duwayne, who was 13, died three days later in hospital.
A spokesperson for the Judicial Office said: "I can confirm Paul Mosley and Mairead Philpott have submitted a renewed application seeking permission to appeal their sentences.
"In due course, there will be a short hearing to consider that before the Court of Appeal."