Shop scheme revives Derby's 'blighted' city centre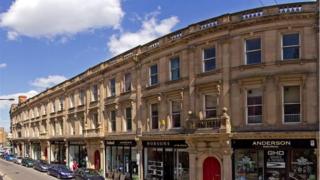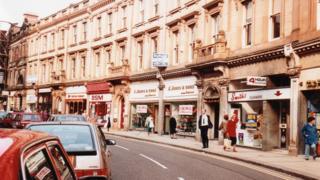 A scheme to revamp some of Derby's most historic shopping areas has seen the number of empty units in parts of the city fall by 84%, property owners said.
About £1.5m has been invested in the city over the last six years.
English Heritage, which has provided half of the funding, said it was the first time the scheme had been carried out on such a scale and said it hoped to roll it out to other cities.
Derby's Cathedral Quarter is among the areas to be revamped.
Landlords have welcomed the project, which has seen some of the city's Georgian and Victorian buildings restored using old photographs and records.
'Completely transformed'
English Heritage said other cities, including Nottingham, could benefit from similar projects in future.
Derby City Council applied for match funding from the organisation's Area Partnership Scheme in 2007.
Under the scheme, landlords and business owners worked with the council to see which shops might be candidates for restoration.
One agent, Trevor Raybould, described the scheme as "quite extraordinary".
Mr Raybould, who owns outlets on The Strand and Sadlergate, said following the expansion of Westfield in 2007, about 58% of the outlets - predominantly independent businesses - became vacant.
Clive Fletcher, principal advisor for the scheme, said: "Derby City Council was struggling to find a way to reverse the fortunes of the city centre, which was looking pretty dreadful.
"It was in danger of being an environment that was quite blighted.
"The expansion of Westfield coincided with the wider economic downturn. A lot of city centre retailers left or went bust.
"This is probably the most concentrated programme of heritage regeneration to be carried out."
To date the scheme has restored 75 shops.
English Heritage hopes the scheme will now continue until 2018.
"The city centre has been completely transformed," said Mr Fletcher.
"The scheme has also led to a revival in Derby's independent businesses, added Mr Raybould.
Julie Ellis-Walford, who runs Can Can on the Strand, said: "Business is still difficult but the scheme has definitely encouraged more people to come in."
Anthony Hughes runs Shooz 4 Kidz on Green Lane - one of the businesses that has not been restored. "This scheme is great for the Cathedral Quarter, as long as they bring in something to help the rest of the city," he said.