Stenson Lock House coffee shop could close over canopy row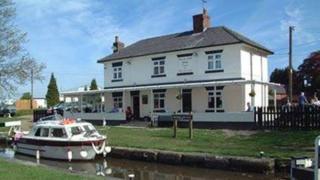 A 200-year-old lock house in Derbyshire which was brought back from dereliction could close - because of a planning battle over a canopy.
Stenson Lock House, which is now a coffee shop, was notorious for drug deals and use when it stood empty.
Eddie Baldwin, who bought the lease in 2002, has been told to remove an outdoor canopy.
He said removing the canopy would make the business unviable. South Derbyshire District Council said he could appeal.
'Made minds up'
Mr Baldwin said he intended to remove the canopy and close the business, which is run by his family.
He said: "We've made our minds up now, we are going to take the thing down, but it's such a shame because it [the coffee shop] has become an attraction.
"I shall be sad to see the lock cottage revert to its former state and all the people who have utilised one of the last free visitor attractions having to find another place 0
The lock house only has space for 20 seats inside, so Mr Baldwin added the canopy to increase the capacity, and provide shelter in colder weather.
The original temporary canopy was damaged by winds in 2012, then replaced with a permanent structure.
Someone complained to the council about the canopy, so the council asked the coffee shop to apply for retrospective planning permission in May.
Planning permission was refused on 1 August.
The planning decision notice stated the canopy was "generally appropriate in scale and overall form", but the windows and doors interrupt "views through the canopy from various aspects within the conservation area".
Mr Baldwin, who is also joint owner of nearby Stenson Marina, said the coffee shop helped other businesses in the area by providing free parking and public toilets - even for people who do not use the coffee shop.
"They will lose public conveniences, access to the canal and a good visitor attraction," he said.