Derby Commercial Park could become 'Pride Park Two'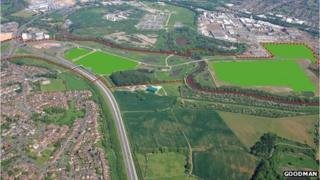 A beer distribution centre is expected to be built on a stalled commercial park which has remained unused since being launched nearly three years ago.
Derby Commercial Park, to the east of Derby, was officially launched in 2010 but is empty apart from infrastructure.
A planning application has been submitted to build units totalling 632,285 sq ft (58,830 sq m).
The leader of Derby City Council, Paul Bayliss, hopes it will encourage other businesses to use the commercial park.
Mr Bayliss hopes the park will become as successful as Pride Park - the business park which built up around the city's Pride Park football stadium. He said it could become "Pride Park Two".
'Couple of hundred' jobs
"It's a fantastic development should it come to fruition," he said of the beer distribution centre.
"It has to go through the planning process but we are pretty confident it will do that."
He said he expected it to create "a couple of hundred" jobs to start with.
The distribution centre would be built off Raynesway, to the north of the A6 Alvaston Bypass.
It would comprise a warehousing unit and ancillary office accommodation, vehicle maintenance unit, servicing and parking areas.
A spokesperson for the applicant, Goodman, said: "I can confirm that global property group Goodman has submitted a planning application for a 632,285 sq ft distribution building on behalf of Kuehne + Nagel Drinksflow Logistics and Heineken, and that it is a £45m project."